OLDKOOK'S STORY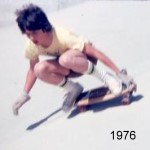 Hi, my name's Frank Still, a.k.a. "OldKook." I did a lot of skateboarding in the 1970s. I jokingly garnered the name "Kook" from my friends back then. If you're a surfer or a skateboarder, you know that the label "kook" has been applied for years to newbies, dorks, wanna-be's, etc... especially to those with little style and even less etiquette. Anyway, I don't know if I was really *that* bad, but I always have been a little goofy ;-)
So I picked up skateboarding again in 2004, at age 41. I quickly remembered the joys of slamming into concrete, although it sure seemed to hurt worse than it did when I was 13. Realizing my age a bit, I gave myself the name "OldKook" while paying homage to my past. So, that's where the name comes from.
During this skateboarding "renaissance," another thing I remembered was the same annoying problem I had as a kid: broken shoelaces. In the late 70s, a new style of falling came into play, following the required use of knee pads at the skateparks. Basically, you would jump off your board and slide down the walls on your knees, with your toes pointed back toward your head and your shoelaces being friction-ground to a pulp on the concrete beneath. So, as I did in the 70s and continued to do in 2004, I was having to re-tie my broken shoe laces 3-4 times every session. I figured there had to be a better way, and so it began: my quest for "a better shoelace."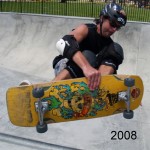 After 10+ years of research and development, I now confidently offer the toughest, strongest, most durable shoelaces and boot laces on the market. My customer base has grown to be world-wide and has driven my product line to include applications for all sports, athletics and other high impact activities, such as work boots, construction and heavy duty industrial jobs, snowboarding, military and law enforcement.
NEW IN 2014: I have expanded my range of products to include ultra-durable Surf Leash Cords and the new "Thing-O-Magic" which has an infinite range of uses, such as replacement starter pull cords for lawn mowers, edgers, weed eaters, blowers, chain saws and much, much more.
All of my products are guaranteed to out-last anything you put them on!