OLDKOOK'S CUSTOMER TESTIMONIALS
"I am emailing you with the great news that your boot laces have lasted me for over 5 years. I know I can get another year out of them easily. I have bought 10-15 pairs of boots since I ordered your boot laces. It was always a joke with my wife how the laces would outlast the boots." - Mark S.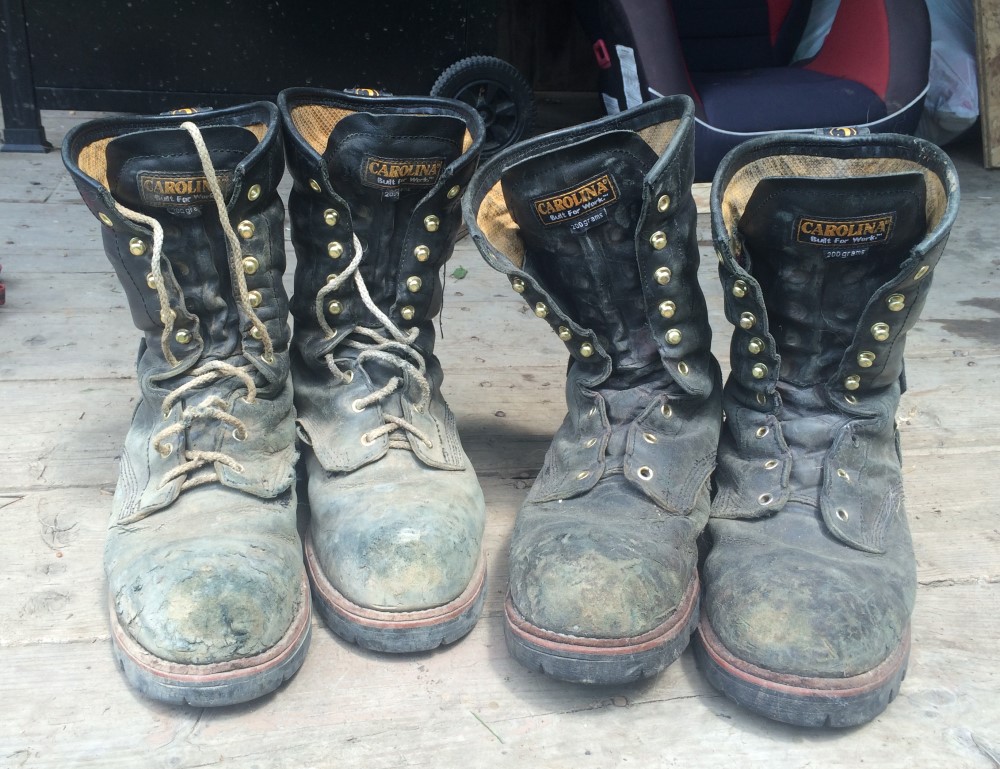 "4 years, 2 pairs of boots, one pair of laces. These boots used to eat laces terrible too.
Your laces are worth every penny" - Matt B.
"I have had mine for two years and what a great product. I am just buying another set for a new set of work boots. I could reuse the old ones but I will still wear the old shoes sometime. Boot laces do not last longer than shoes but these did. I work at a large gold and copper mine in Nevada. EVERYONE with work boots has a big problem with making laces last, it is a harsh environment. I will never buy anything else." - Jeff H.
"I had never heard of Old Kooks and a guy I skate with said he had an extra pair. I was going through laces regularly... at times at least one pair every week (I fall a lot). So, I laced up the Old Kooks about 2 years ago and I have had the same laces in 2 different pairs of shoes. They really took a lot of punishment. They are great shoelaces. They are almost too good. I will never put anything else in my skate shoes. You really have an awesome product." - Paul A.
| | | |
| --- | --- | --- |
| | | |
"Old Kook's Laces are definitely the longest lasting laces I've ever come across. The laces in the above 2 pics lasted me through 3 complete pairs of Supra High tops. These shoes generally last me between 9 to 12 months of hard skating, so the laces lasted me at least 2.5 years. They are ridiculously strong, lasting through heavy abuse such as uncountable number of knee slides. The shoes are falling apart around the laces after such abuse. I used to have to keep extra laces with me at all times, now that's not an issue. Thanks O.K. for making the best skate laces on the market bar none." - Cenen A.
"4th pair of Vans, SAME laces!! Thanks Frank!" - Steve H.
"I was given a pair of your laces recently by my friend and your team rider Dave Allen and I can't believe how long they have lasted! I just wanted to drop you a line and say keep on doing what you do!" - Will B.
"BTW, the laces outlasted the shoes. I wouldn't have believed it." - Joel B.
"I ride Kooks! Best damn shoelaces ever. I usually ride my stock shoelaces the first couple days until they get their first break, then on come the Snakes. Old Kook's Snakes outlast my shoes. Thanks Frank, I sure appreciate your product!" - Ron F.
"I got them about 7 months ago and I was told they'll outlast my shoes... sure ;) Well, they're on my second pair of Vans which are about to bite the dust here soon and the SAME laces will be going on a 3rd pair of shoes!!! I never thought it was for real at first, but now I'm a believer and I'm totally stoked on 'em! Thanks Frank, you're the real deal and your product lives up to the claims you make." - Jay V.
"This is my second order, the last pair have lasted thru 3 pairs of SK8HI Vans. Best thing about it, my first pair are worn in spots, but still going! I got these new ones for my friends and the 'just in case' pair for me!" - Jimmy H.
"As I was lacing these shoes up the other day I laughed as I remembered using these laces for the 1st time. The label said, 'Guaranteed to outlast your shoes' (or something to that effect). At the time I thought to myself, 'if true, that'd be killer' because I was going thru 3-4 laces a WEEK. Well I don't remember exactly how old these laces are (a year??), but this is the 4th pair of shoes that these laces will have out-lived... and they show no sign of wearing out. I anticipate using these laces on at least 2-3 more pair. Worth every penny! As essential as grip tape. Thanks Frank!" - Hamm B.
"The laces are insane. I usually only get a session or two before I have a mess of knots and empty eye holes holding my shoes on my feet. But not with the Snakes. They're as described. Great stuff man." - Jeff R.
"I got a few sets of your laces a few years ago. All of them still going strong today. Sept. 11 2009, one year ago... The pull cord on my lawn mower gave out at a really bad time (snapped) and the lawn needed to be done pronto. I was far from a hardware store. I thought hey, for a quick fix I'll put on one of Franks laces. Like I said that was a year ago and MANY lawns since. The cord pretty much shows no wear. Thanks for the save. Oldkooks forever!" - Bernie R.