My Straight JacketsTM hook & loop shoelace replacement system will make any pair of athletic shoes bomb-proof. No more broken shoelaces. Ever. Manufactured 100% in the U.S.A.
Replaces shoelaces
No tying!
Each Straight Jackets!TM kit includes:

What you'll need for installation:

20 nickel-plated rectangular rings*
72" hook & loop strip (Colors: black, brown, white)*
Photo-illustrated instructions (online only)

Your existing pair of shoes, with laces removed
2 pairs of pliers, preferably needle-nose
1 pair scissors

Installation Instructions
*Enough for 1 pair of high tops with some extra pieces left over, or 1 pair of low tops with quite a few extra pieces left over.
Buy Straight JacketsTM safely and securely via our

shopping cart.
All major credit cards accepted
FREE shipping in the United States
International shipping rates (USD): 1-3 pairs/$7, 4-6 pairs/$12, 7+ pairs/$20
Please read OldKook's Guarantee & Exchange Policy before ordering
Use the pulldown menus to select your items
If necessary you can adjust the quantities of each item in the shopping cart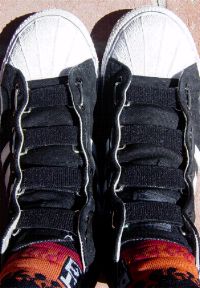 Here's how they look. zoom >>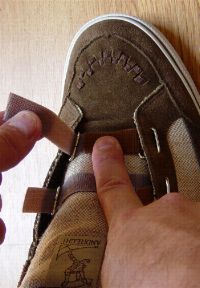 Here's how they work. zoom >>